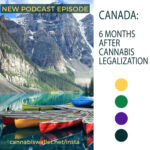 Canada legalized adult use cannabis six months ago.
This week on the podcast, we're talking about the first six months of adult use legalization in Canada – what's happened so far, in terms of the good, the bad and the ugly.  We'll finish up with some thoughts on where the situation should be headed versus could be headed, and talk a bit about what's coming down the pipe with additional products in the marketplace.
[LISTEN: California Legalization Leads to Falling Profits? – PODCAST EPISODE]
Becoming the first G7 nation to legalize cannabis consumption for recreational use on the national level, Canada was, in some ways, leading the world forward.  With half a year of adult use cannabis under the belt, what's the real story with the industry, the public perception, and the way forward for Canadians?  Let's take a closer look.
Canada is not the first country to legalize cannabis, and it certainly won't be the last.  Uruguay was first to legalize adult use on the national scale, but the country has struggled to find banking for legitimate businesses, since the US banks were quick to tell the country that they would not do business with banks who bank cannabis.  Canadian banks don't seem to be falling over themselves attempting to sign up dispensaries for services either, and there have been recent complaints about a distinct lack of banking services in the Canadian cannabis industry.
Stocks are still flying high – Aurora and Canopy leading the way; while stocks in online and physical stores are not really delivering on the promise of having a wide variety of quality product available for purchase by Canadian citizens or visitors who are old enough to purchase cannabis legally.
Can you buy edibles in Canada yet?
That's another sticking point, the limited supply of products coupled with the complete lack of certain types of delivery mechanisms, such as edibles and vapes, which are two of the most popular consumption methods overall.  This creates a thriving black market scenario, and the prices for quality product on the black market are still much better than those in the majority of retail or mail order boutiques.
Other problems have occurred with mold in packaging, Post Canada being on strike and not delivering online orders in a timely manner, and of course, winter weather wreaking havoc across the country.  It's not an encouraging situation overall, and the jury is still out on whether or not this experiment is going to be successful.  It's also not helping that PM Trudeau is in hot water on the political front and the opposition party has been calling for his resignation with growing fervor.
So grab your earbuds and your coffee, and settle in for the latest podcast episode!