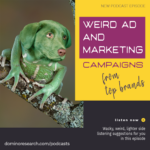 Weird ad campaigns aren't reserved just for the Superbowl.
Granted, there are a lot of offbeat ads competing for attention during that infamous – and infamously expensive – time slot; nearly every day, however, brings some new kind of strangeness into the advertising and marketing realm, and it's been amplified by the internet and now mobile.  It's the time of year where weird ad campaigns take over the world!
[LISTEN: Our favorite podcasts for event planners – PODCAST EPISODE]
We decided it would be fun to take a little stroll down memory lane, and see what weird ad campaigns and other offbeat marketing schemes had been deployed in the past twenty years.  We chose a few favorite campaigns, and we are likely bringing you a belly laugh today when you think back about some of these projects.
Whether you are a creative looking for inspiration, a potential ad man trying to research what types of ads or campaigns actually stick around in peoples' memory, or if you just happen to like weird ad campaigns for the sake of liking them, then you're going to like this episode of the podcast!
Off the wall campaigns come in all sizes and shapes.
We're chatting about diverse advertising campaigns – everything from IKEA's famous "Princess and the Pee" to AB Inbev (formerly known as Anheiser Busch) pushing a strange, mystical, and totally fake animal in a Superbowl commercial.  A really weird Superbowl commercial.
So of course, with the Superbowl set to air just a few short days from now, there are a ton of places online to "pre-watch" the commercials – which frankly takes all the fun out of it, if you ask us!  Half the reason to watch the game in the past was to see the commercials as they aired; they were almost more important that the game itself for a lot of people.
Grab your earbuds and join us while we trash talk other people's funny ads for your listening pleasure on our latest podcast episode!