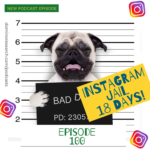 Have you ever spent the night in Instagram jail?
Maybe you're not even sure what Instagram jail is, or maybe you've also been in this situation.
This episode – our 100th (yay for us by the way!!!!) is where we tell you what happened, how we think it happened, and what we did to finally get out of lockdown and back to increasing our account following and using the platform normally.
[LISTEN: Best of Podcast Marketing Episodes, part 1 – PODCAST EPISODE]
Instagram for business is becoming the foremost way for businesses to engage with their client base. Creating a profile is one thing, organically building up the profile is another. It takes lots of time, lots of images and a lot of l/c/f. But what happens when IG decides to put you in their penalty box or even worse Instagram jail?
We discuss our experiences and what we did on uphill path towards the coveted 10K follower mark – that's today on the podcast.
Is it really that easy to land in IG jail?
Well, apparently it is, and there's no real way to be sure of exactly what you did to cause the problem.  There are also a variety of time-outs and "penalty box" actions that Instagram can and will take that penalize your account.  We've seen a couple of these up close and personal in the past but this was an all out slam dunk, in the form of what's known as an "action block".
As luck would have it, while we were in Instagram jail, there was a Facebook/Instagram event taking place in Toronto, so Hazel decided that she would attend and see what she could find out in person from the FB/IG representatives at the conference.
But…  that didn't really go as planned either.
If your business depends on Instagram, Facebook, Pinterest, or any other half reputable social media platform for traffic and engagement, the last thing you want to do is piss off a faceless organization full of algorithms, automated suspension flags, and the like.
So grab your earbuds and listen to our 100th episode — 18 Days in Instagram jail!