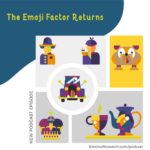 Emojis are nothing new.
But there are some new emojis, and maybe you haven't yet heard of Emoji Kitchen or emoji mashups?  We're back with another episode of the podcast and today we are talking about the emergence of emojis (boy, that's a mouthful) and the how and why of how they come to be on your phones, in your posts, and how new ones are created.
[LISTEN: Mobile Reach: #distancemarketing in a new era – PODCAST EPISODE]
It turns out that emojis aren't just something you can whip up at the drop of a hat; not if you want them to be universally accepted and used by millions of people.  There's an actual governing body that manages the emoji universe, and decides which ones will make it into the land of unicode and which ones are not going to be default.
What's the point of using an emoji instead of an abbreviation?
Well, that depends on a few factors like how old you are, what kind of device or platform you are using, and what you are trying to express.  There are plenty of "alternate" definitions for some common glyphs, and some of them are downright NSFW.
The basic premise behind these little characters is that it's a way of expressing a larger sentiment by using a single image to make a point or enhance something you are trying to say.  And in the current situation, it's no wonder they are becoming more popular; after all, who doesn't need a smile to brighten their day right now?
If you don't know that much about the topic, or you aren't entirely sure how to use them in context, this is definitely the podcast episode that you want to listen to today.  (Seriously, you are stuck at home doing shelter in place, what in the world else do you have today?)
So grab your cuppa (yes, we know it's laced with adults only additives, but that's quite alright) and jump into the conversation with us!