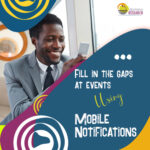 Mobile notifications are a powerful tool to connect and engage with customers.
If you're not familiar with how mobile notifications work, then you're going to love the latest episode of the podcast!  We're talking all things mobile, all things lock screen, and we've chosen to talk about a real estate broker client of ours who perfectly illustrates the right way to use mobile notifications and lock screen captions to reach out to customers and prospects.
[LISTEN: The Best of Marketing Podcast Episodes, Part 1 – POCAST EPISODE]
Proximity marketing, location based marketing, geo-caching, geo-fencing, iBeacons, Eddystone beacons – these are all part and parcel of the terminology used to talk about marketing to consumers where they are.  And yes, we mean that literally.  If you have a customer who is standing on the corner by your shop, then you should be able to (and doing it!) send them a message reminding them that you're just around the corner and they should pop in to see what you've got going on.
Real estate offers a multitude of opportunities to use mobile notifications to help clients buy and sell properties more easily, more efficiently, and in less time from listing to close (mostly in the part between listing and offer accepted if we're being honest, but the other bit sure does sound great, eh?) on average.
What exactly do mobile notifications offer for the average small business owner?
Wow, we thought you'd never ask!  If you have a brick and mortar component to your business (real estate, for instance, is all about selling bricks AND mortar!), then you should seriously be looking at using mobile ad campaigns to generate excitement, interest and more enthusiasm from your listers and your prospective buyers.
We're not here to tell you that you're doing it all wrong – but we are here to tell you that you could be doing it so much more 'right' that it will blow your mind.  When was the last time you took a long look at your marketing and sales collateral and gauged whether or not it was modern, to the point, and most of all, effective?
Not sure about mobile or how to make it work?  No problem!  Grab your earbuds and jump into this week's podcast episode!