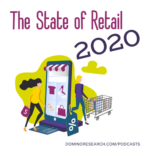 The state of retail today could be described as perilous, at best.
We used to publish a blog article each year about the state of retail, immediately following the NRF Big Show conference; this year we're going with a podcast instead.  Mostly because we don't have a blog on this site any more, we are only doing podcasts.
[LISTEN: The Effects of Mobile on the Shoppers Journey – PODCAST EPISODE]
If you're not familiar with the National Retail Foundation, they are the industry organizing group for retailers around the US, and to a larger extent, the world.  The state of retail at the moment is in peril, with everyone from Sears and Pier One closing down almost entirely to chains like ToysRUs attempting to halt bankruptcy proceedings long enough to reinvent themselves as another brand entirely.
What's happening with retailers?
Most successful retailers are looking into the Amazon model for insight into what might work going forward; even Amazon has hit a few roadblocks in the past few months.  When you add the current coronavirus scare into the mix, it's likely that we will see brick and mortar stores taking another big hit this year.
Retail has always been a very difficult business model – more stores close than stay open over the long term, and small, mom 'n' pop type outfits are often just one rent payment away from shutting down and going out of business.  Last year we saw more stores close than open, which could simply be a natural correction based on the over leveraging in the retail real estate market.  It could also be the start of a longer term trend, especially in the US, where the political landscape is in turmoil, and people are starting to wonder what the future will bring economically.
Join us for this episode while we talk numbers, predictions, and of course, jade vagina eggs!