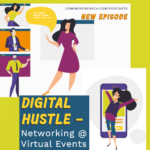 How strong is your digital hustle?
We're back with another episode of the podcast and today we are talking about digital hustle – which is the essence of what you need to make an impact when you're networking at a virtual conference.  Whether or not you are well versed in making a great cyber impression, or are still a relative newbie at figuring out how to meet and greet in the land of augmented reality booths and Zoom keynotes, we are discussing actionable strategies that will help you to put your best foot forward and make some connections.
[LISTEN: Restaurant delivery apps in the time of coronavirus – PODCAST EPISODE]
There is a lot going on right now, and the world seems to be more on the side of crazy than not; this means that while we are all struggling to figure out what the story is, what it might be, and how we are going to make the transition from where we are now to whatever the next iteration of work and social and other interactions dictate, we still have to be able to keep our small businesses afloat.
Why should you worry about your digital hustle ability?
So much of what we have done in the past has been driven by the face to face interaction that we have shared with other people – travel and attendee costs have been small enough (both in dollars and in health risks) that for years now we have all been ready and willing to hop on a plane, spend hours of the day jammed into convention halls with thousands of other people, and then have made our way out to crowded venues for socializing afterwards.
While it's likely that we'll be back to socializing in crowds sooner rather than later, it's also imperative that right now, while we are unable or unwilling to come together as a group for a common purpose, that we don't allow the businesses that we have spent hours, weeks, and months building to fall into ruin.  Thus the rise of the digital hustle.
How can you translate your normal gregarious personality in real life into the same sort of impactful and positive vibe online with groups of people who can sometimes only communicate emotions by using emojis?  How can you continue to build your tribe, lead your community, and make sure that the people who are interested in what you have to say will hear you when you are speaking?
There's that word omnichannel again.  Oh boy.
That's right.  We keep circling back around to it, and that isn't likely to change any time in the near future.  Omnichannel means using multiple channels to broadcast, listen, and engage – while managing the details and the experience on the other side from a single, central hub that is simple enough to use and easy enough to put together initially.
Whether you are speaking at a virtual event or just attending an event, it's always going to be good to know what's coming up next, where you need to click to get there, and what you might need to do once you arrive.  Mobile offers a specific set of benefits when compared to other broadcast mediums like email or social, and leveraging a wallet for notifications is much more cost effective than using SMS or building an app.
So grab a snack – yes, it's ok to eat Doritos for breakfast right now, and you can have pancakes for dinner, too! – and plop down in your #WFH setup!  Get comfy and get into it with us on this latest episode of the podcast!