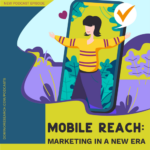 Mobile reach has taken on a new meaning this week.
While we are not quite sure whether we have stumbled into true crazy town at the moment, or if there is still a chance to bring the world back to some semblance of order, one thing we know is for certain.  The world has changed, and in a hands off society, mobile reach is going to become the new currency of the realm.
[LISTEN: Our favorite mobile marketing blogs – PODCAST EPISODE]
When we last left you, dear listeners, two weeks ago, we were already talking about the all the great moves towards mobile marketing, advertising and technology that had been talked about at the Big Show (the yearly NRF trade show, the big one!) as the way forward this year, but then, well…  coronavirus hit.
We're not doctors, or scientists, and at the moment we're not even thinking about staying at the Holiday Inn Express.  But what we do know is mobile and we understand how to translate personalized marketing and advertising into actionable, yet hands free  #distancemarketing  (yes, new hashtag, for sure going to be big!)
This entire scenario has us both in shock, and frankly more than a little nervous.  We want to see everyone come out of this better than they were going into it; the likelihood of that happening is probably about equal to waking up and the whole thing being like that season of Dallas, where nobody shot JR and the whole thing was just a bad dream.
Sometimes you gotta just put one foot in the front of the other.
If you run a small business, whether it's brick and mortar, online, or some combination of the two, then you are already on slim profit margins and you probably don't get to eat until your employees are fed.  This is the typical entrepreneur setup, and we recognize that.  We also know that opportunities for lead generation are going to get tougher, there will be more noise in the world, and that every penny is going to count, much more than it did last month, or even last week.
What does all of this mean?  We have been thinking and talking for two weeks now about the situation, and we've seen it firsthand in three different countries (China, Iran, S Korea, not being among them) and we don't think it's impossible to keep working and getting organized for the new way of handling things, which is certainly going to involve a lot of mobile reach and outreach.  Listen in and see what you think.
So without further ado, we bring you the first episode in the new world of maintaining intimate contact without touching a soul.