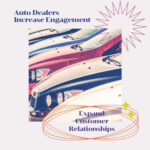 In a constantly disrupted environment, auto dealers MUST increase customer engagement.
On the latest episode of the podcast, we're talking about how auto dealers need to start building solid customer relationships now, in order to create a solid foundation going forward.  Disruption is everywhere in the auto industry – self driving cars, the push away from fossil or combustible fuels, the ride sharing economy…  it seems that nearly every circumstance is conspiring to prevent auto dealers and the automotive industry from being profitable in the future.
[LISTEN: Auto dealers optimize mobile campaigns – PODCAST EPISODE]
Auto dealers have long had the luxury of maintaining inventory and being able to provide immediate satisfaction for customers who are searching for a new vehicle.  Today the internet makes it possible for consumers to shop all car dealers at once, look for better deals, and search inventory on a nationwide basis.  Margins are becoming slimmer, customers are driving harder bargains, and the general feeling is that traditional auto dealers are going the way of the dinosaurs.
So how can automobile dealerships compete with the internet?  With the rise of data and information that's freely available?  With the disruptive influences of global climate change, the push towards the sharing economy and the generally increasing costs of ownership?  What does a smart vehicle dealer do to combat these enemies?
Does mobile marketing really help an auto dealer to build a bigger customer base?
As we discuss in the latest podcast episode, auto dealers who don't bring their marketing and engagement efforts into this century – and fast – will find themselves left behind, likely standing there bewildered and wondering what the heck just happened to them.   Of course this is all preventable, rather easily, but it's going to take some work and some effort and some serious strategization to create comprehensive engagement campaigns instead of just trying to sell a few cars.
The most important thing we talk about in this week's episode is how to get a solid strategy setup, what to include, how to make it work for any specific situation – not just a plan for one type of auto dealer setup.  We're also walking through the list of obstacles that are popping up right and left – everything from Google's self driving cars in Phoenix to EU countries who are banning the internal combustion engine in rather short order.
Now's the time to start thinking about the future, or else you'll be left behind in the past.  It's not rocket science, but it does require some critical thinking and the willingness to put the effort in before it's too late.
If you're in the automotive business – whether you're an auto dealer, a supplier or a value added reseller in the chain, now's the time to grab your earphones and see what we're talking about!