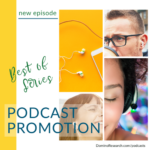 Podcast promoting is a thankless task sometimes.
If you produce a podcast, then obviously you want more listeners, subscribers and downloads.  It takes some effort in the podcast promoting department to be successful at this task and sometimes it seems to be pretty thankless, at least when you're watching your stats and they aren't moving in the right direction.
[LISTEN: HOW TO: INTEGRATE CTAS FOR MORE MOBILE ENGAGEMENT – podcast episode]
There are also several different reasons that people start producing podcast series – perhaps you want to provide entertainment, or an opinion.  Maybe you are looking at using a podcast as a way of promoting your existing business.  Maybe you want to start a new business – online coaching, for instance – and you are going to incorporate a podcast into your overall plan.  Podcast promoting is a necessity; without it you'll be lost in the vast landscape of podcasts that exist on iTunes, Stitcher, Spotify and Google.
During the past three years (that's nearly 100 episodes if you're counting!), we have focused on podcast promoting since it ties in with our mobile marketing and advertising platform, and we have produced a number of episodes that are specific to the topic.
In our "best of" series that we started last year, we have singled out various topics including real estate marketing, online coaching, basic marketing, and podcast promoting, and we've pulled clips from some of our most well received episodes in order to create compilations that highlight some of the key points in marketing and advertising in these fields.
Plan your work, work your plan.
Figuring out how to script, record, edit and present your podcast series to the world is already a monumental task for some people.  Once you factor in the requirement that YOU must get it in front of potential listeners and convince them to give it a chance, you're looking at a big time commitment, and it could be months before you see real results.
Grab your earbuds and have a listen to some tips and tricks to get you moving in the right direction way more quickly!