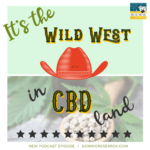 CBD Industry Behaving Like the Wild West
We're back with a new podcast episode and this time we are talking CBD!  Perhaps you have heard already, or maybe this is new news to you – but the CBD industry is filling up with bad actors and taking on a wild west atmosphere lately.
CBD is definitely all the rage across any number of demographics – from baby boomers to pet parents to health and wellness practitioners.  You can purchase it almost anywhere from mini-marts to Amazon.com.  We recently ran an episode detailing the FDA's increasingly aggressive stance toward the industry and the products, but that may only be a drop in the proverbial bucket compared to what's going to come next.
[LISTEN: FDA to CBD Industry: It's a drug, and we're going to regulate it like one – PODCAST EPISODE]
The passage of the Farm Bill in 2018 has created a situation where CBD derived from hemp is legal, while CBD derived from cannabis is not.  We aren't going to dispute the science behind this division, or why it makes absolutely no sense, especially since it seemed to be in the industry's best interest when this occurred.
Unintended consequences at work here perhaps?
Recent events are creating a difficult scenario for the CBD industry – untested, mislabeled, and harmful products are making their way into circulation – whether its bad actors, greedy business, or just plain stupidity doesn't really matter.  People are being harmed by the products they are using, and that is just wrong.
How is the CBD industry going to overcome this problem before the FDA or Congress decides to shut down the industry and force manufacturers and distributors to spend millions of dollars to create products that are FDA approved before they can be sold?
Is there even a way to head off the trouble at the pass, or has it already morphed into a runaway train, headed down the hill, where both the brakes and the bridge are out?
The CBD industry could be in grave danger, and we need to address these issues and try to find solutions as fast as possible.
Grab your earbuds and relax while you spend some time with us as we talk through the situation and what may be coming next!