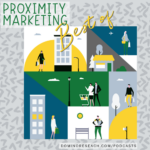 Don't know proximity marketing? This episode is for you!
We know, it's always something new and exciting in technology that you absolutely must keep up with, never mind trying to keep your day job and your side hustle going…  really though, in all seriousness, proximity marketing is something that you need to know about, so you can make an educated decision about whether or not it's something that might work for your business or branding efforts.
[LISTEN: Great podcasts for event planners – PODCAST EPISODE]
In this week's podcast episode, we've compiled a series of clips from some of our older episodes that are targeted towards teaching you the high points and giving you some ideas about how you might best be able to use the iBeacons, especially in conjunction with the geo-location and geo-fencing features that the mobile wallet passes employ.
We've extracted some of the best moments from four different episodes, including our 50th episode, which details how a museum uses iBeacons to manage traffic flow and enhance user experience for attendees (talk about a captive audience for your proximity marketing!)
Realtors, real estate agents, and brokers, event planners, trade show organizers, and VIP hosts all have fantastic use cases for proximity marketing via mobile wallet campaigns, and we're highlighting some of the most popular and effective uses of the technology across a variety of verticals and niches.
Knock, knock!  Who's there?
Proximity marketing relies on tiny radio transmitters that send signals to mobile devices, and cause a reaction – most often a lock screen notification or similar call to action.  This means that customers or prospects are nearby ("near me" is the most popular appendix to a Google mobile search, and has been for years, think about that) and are in the mood to spend some money with you.
Find out about how geo-fencing, geo-location, and proximity can be linked together to create a simple but effective mobile campaign that more than 90% of prospects who initially opted in will be targeted, based on when they are near your business premises or event location.
So grab your earbuds, curl up in a sunny spot, and take some time to hear how this could very well be a great idea for your business or branding effort!