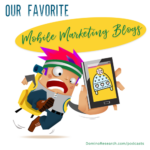 Do you have a list of favorite mobile marketing blogs?
You can bet your special sauce that we do, and we're going to share the ones that make the cut with you on the latest edition of our podcast.  We've culled our list of mobile marketing blogs and chosen the ones that we think have the best info and the best presentations.
[LISTEN: Favorite podcasts for event planners – PODCAST EPISODE]
Over the years we have developed a pretty long list of blogs we read and podcasts that we like to listen to regularly.  Some of these have gone stale and no longer update, so it was high time that we went through our lists and picked out some current and relevant mobile marketing blogs and revised our spreadsheet.
Our grunt work = your shortcuts!
There are so many blogs out in the wild that it's absolutely insane.  A lot of them have information that is outdated or irrelevant, especially when it comes to mobile marketing.  Frankly, mobile is THE way to catch your customers and prospects these days, and even Google is going to make websites that are not putting mobile first go to the end of the line (ie search results) next year.
Maybe you aren't all that savvy about marketing via mobile devices, or perhaps you're just now starting to educate yourself.  We've been in the mobile business for nearly a decade now, and the continued growth is absolutely astonishing.
There's no reason for you to have to reinvent the wheel; nor should you have to go out and read through a hundred different mobile marketing blogs to find the key information that you should have at your fingertips.  We've done the leg work for you and have the results in a quick and easy podcast episode that will point you in the right direction, right now.
As we mentioned above, mobile is THE big thing for Google results in 2020, so if you aren't using the medium to its full potential, get onboard with these mobile marketing blogs and get your act together before your search engine rankings plummet and your traffic nosedives.
Grab your earbuds and have a quick, ten minute listen to the latest podcast episode!