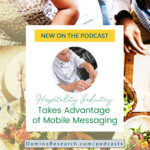 The hospitality industry is a hard business.
It's super competitive, requires dedication, skill, hours upon hours of time investment, and still requires a healthy does of luck before the dream of success is even minutely realized.  And then the lucky chefs, staff, and owners get to do it all over again the next day.
[LISTEN: Restaurants Prosper Using Mobile Coupons & Rewards – PODCAST EPISODE]
Welcome to another episode of the podcast, and today we are talking restaurants and hospitality industry businesses – specifically how using mobile to message and market to customers, referrals and prospective clients, can make or break the success of a particular evening, week, or month in the business.
Impressing your clients, building up a following, and keeping customers coming back on a regular basis – as often as profitable – isn't the easiest thing in the world to do; when you add in competition in the form of everything from fine dining to fast casual to pop up restaurants and food trucks, the chances for success start to look more on the bleak side than the sunny one.
Marketing strategies that connect with customers are key.
Hospitality industry marketing strategies have often been at the forefront of new advances in advertising outreach and marketing, harkening back to the days of Studio 54 and Elaine's in modern history, but going all the way back to clubs like Annabelle's in London (an old timer for sure, and still going just as strong).  These inventive pioneers created influencer marketing, daily specials, in-house rewards programs (sometimes super secret in house rewards even), and other crafty ideas to keep their customers coming back.
In the age of mobile, there really are no more secrets – success boils down to having a great product, a fantastic space (hopefully with a long term lease to keep the rent stable), and the ability to draw customers into the venue every time it's open.  Anything less and most hospitality industry business owners don't have the capital to keep the doors open for much longer.
So grab your headphones and a beer, and join us for a trip inside the minds of some savvy hospitality industry marketers!