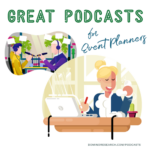 Event planners, take note.
We listen to a lot of podcasts every week – we're always trying to find the ones worth subscribing to in a wide variety of categories, and we like to share the good ones with our listeners, especially if the podcasts in question might be beneficial to our customers – like event planners or VIP hosts, for instance.
[LISTEN: Negotiating the best price for your event venue, part 2 – PODCAST EPISODE]
Whether you put on a local event, good size trade show, large scale conference, or just book meetings and luncheons. This next episode is for all those event professionals who are always on the lookout for the next big thing.
Event managers  are always on the move, which makes finding time to listen easy as in the car to a venue, for instance. Many event professionals want to be informed on the latest event trends and news.
We've spent some time combing through our subscriptions and pulling out a few that are really geared towards event planners and how to plan events – and we also have several episodes in our own archives that are absolutely fantastic, especially if you're new to the industry or haven't quite mastered the art of getting your events to run smoothly yet.
Some of the event planner podcasts that we are featuring in the episode aren't regularly produced, but they do have a treasure trove of good ideas in them, so we have included them in the list.  Others are pushed on a specific schedule and can always be counted on for some fantastic new ideas, discussions about how to head off trouble before it hits your events, or how to make the best of a bad situation.
Show me the money!
We've also got a couple of entries that deal with planning on a tight budget, which is always appreciated by a large number of our customers and potential customers.  These include ideas about using technology to do your heavy lifting, and where you might be able to get good deals on venues if you're quick and keep up with the local news in the cities where you plan to host an event.
So grab your earbuds, sit back, and join us for a discussion of our favorites, as well as the reasons that we like these over some others we might have chosen!