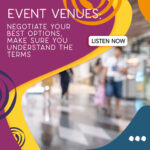 So it's time to negotiate the contract for your event venue.
You've spent a lot of time planning a trade show or conference, and it's finally time to decide where you are going to host it, and what sort of amenities you are going to provide for attendees, speakers, and sponsors.  The next step is choosing your event venue and negotiating the contract.
[LISTEN: iBeacons + Events:  3 Ways to Use Them at Your Next Event – PODCAST EPISODE]
In this episode of the podcast, we're going to teach you half of what it takes to negotiate with your prospective event venue in order to get the most bang for your buck.  It's not rocket science, or even rocket engineering, but if you've never worked with hotels, conference centers, or that type of business, then it can be intimidating and hard to know exactly what you should be pushing for in your contract terms, and where you can find some extra discounts off the list pricing for the line items.
Getting the right location can make or break your event.
If you're lucky enough to have multiple event venues that you can use, then it's not that difficult to get them bidding against each other for you business.  There are plenty of line items that can be included, comp'd, expanded, etc for your benefit without raising any eyebrows in the accounting department of your host location.
The key here is to know which parts of the contract are the most important to the event venue, versus which ones they have the ability to use as incentives to get your business.  It's also very important to understand how the expected size of your event can impact their bids, and you can't forget that the type of industry you're in will also have bearing on their final offers.
Most hotels, reception venues, conference centers, etc will not tell you in advance where they are willing to play ball with pricing, freebies, inclusions, and so on – it's not their job to tell you how to cut into their profit margins.  They recognize that newbie producers will not be likely to know all the corners they can cut, so they're not going to cut them unless you request it in their final bids.
Grab your earbuds, sit back and relax, and listen to the first part of our two part mini-series about how to negotiate with your event venue for the best deal!