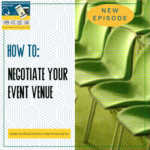 Negotiating event venues can be tricky.
We've all heard stories about conference hosts who ended up so far in the red by the time their event was over that they spent the next year paying off the credit card bills; it's true, negotiating event venues is often fraught with pitfalls that you don't even know about as a new conference organizer.
[LISTEN: Negotiating Event Venues, part 1 – PODCAST EPISODE]
We recently hosted an episode (link above) about negotiating event venues, but there was so much information that we simply could not fit the content into a single episode, without making it a super long episode, and we like to keep the same format all the time.
If you've already listened to the first episode about negotiating event venues, then you know you had a homework assignment and we're going to help you do the math on your (hopefully) real world event that you'll be hosting.
In this episode, we are walking you through the specific budgeting process, how much you can expect in freebies and comps from the event venue, and what the process is that you'll most likely go through with your possible venues in order to arrive at your magic number.
We're also taking cost overruns, what kind of backup reserve you are going to want to have in place to cover the potential overruns, how you can allocate sponsorship effectively, which leads to more sponsors and more sponsor dollars to offset the overall budget.  We walk through the liability of serving alcohol at your event, who pays for it, who is responsible if there's a problem with overserving, and more.
We talk about how to maximize your use of the space you are allocated at your venue, and how to avoid being charged for extra labor or setup that you don't really need if you just think carefully about the ways that you can use – and reuse – your space in the event venue.
Negotiating event venues is not rocket science, let's be clear.  But it does take a bit of organization, a well thought out set of goals for maximizing your budget, and the willingness to stand your ground with events coordinators and salespeople that are trying to maximize their own profits (and possibly commissions) by tying you into a contract that is better for them than it is for you.
So grab your headphones, settle in, and listen to part two in our series about negotiating event venues!