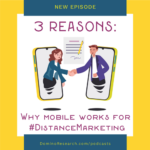 Have you ever heard of distance marketing?
If you don't, you're not alone.  We took a poll (non-scientific, on social media) and about 70% of the people online when we did it were not sure what #DistanceMarketing is, does, or might be about.  But that's ok, since we are taking our time this week on the latest episode, and we are explaining, in detail, what distance marketing is and how you can use it for your small, medium, or even large sized, business.
[LISTEN: Mobile reach: marketing in a new era – PODCAST EPISODE]
Are you struggling to keep your business going? On the edge of disaster? Feeling like you're never going to catch a break with the current situation? You are not alone, by any means. We are living in a topsy turvy world, where things change in an instant, and what was an acceptable practice or standard yesterday is not allowed today. It's so hard to keep up and so much harder to stay focused on business.
Yeah, we know you're frustrated.  And worried.
It's pretty hard to create and sustain a successful business when the entire world doesn't seem to be stacked against you, trying to keep you as far from making it as humanly possible, and things are going alright.  But now, in the midst of this pandemic and the chaos that swirls around it – and trails in its wake – it is harder than ever to get yourself motivated to keep your business running smoothly.  And it's even harder to find the wherewithal to push forward and attempt to expand and grow your business in the middle of all the noise.
Seriously, just looking at our podcast stats for the last five weeks is enough to make us want to cry; but that's not going to happen.  One of the other cool things from our podcast stats is that we can see – every week, where our bump in listens is, and we know, because of the way we've been using mobile wallet campaigns to push our podcast for two years now, that we see a good sized group of our listener base being the spike on the alternate weeks to our episode releases.
What's in the episode?
We are walking you through the three primary things that we believe you should be doing right now to start picking yourself and your business up and making plans for the future.  Whether you believe we are going full on dystopian mad max style, or that there's just going to be a switch that magically takes it all back to the old point in time, there's no way you can argue with the fact that your business can always use a boost, a shot in the arm, whatever you want to call it.
So grab your earbuds and join us for a serious talk about distance marketing and how your business will thrive if you learn to do it right from the beginning.