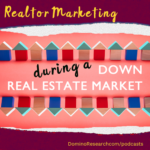 Realtor marketing is about to get tougher in most markets.
In the US and Canada, we seem to be entering a housing slowdown, for any number of reasons – price increases are too rapid, inventory on the low end is too scarce, foreign investors have been pushed out of the market by taxes or their home economies, you name it.   All of these things contribute to making realtor marketing a bit harder than it was a year ago, or even half a year ago.
[LISTEN: "Best of" Series – Real Estate Marketing and Advertising – PODCAST EPISODE]
None of this really matters if you are a realtor, real estate agent, or broker.  All that you (rightfully) should care about is whether or not you and your agents or team are up to the challenge of continuing to do well in a down market.  We're not talking rocket science here, but we are talking about doing a LOT more than just hanging a for sale sign in the front yard and waiting on the offers to come rolling in for the purchase.
Good realtor marketing starts with – at least for potential listing agents – making your prospective sellers understand that you are going to go the extra mile for them, and make sure that you get their property in front of as many eyeballs as possible.  Whether that means a single property listing website, a mobile notifications campaign, inclusion in your print ads, whatever, it is important that you stand out when a seller is interviewing agents or brokers before making a decision about who to list the property with for sale.
In this episode of the podcast, we break down some common misconceptions about realtor marketing and why it's important to be organized, understand available technology, and (hahaha, of course there is an and!) to present yourself as an expert in your area when it comes to getting listed properties sold quickly and for top dollar.
So grab your headphones and spend the next 20 minutes with us while we talk about realtor marketing in a slow housing market!