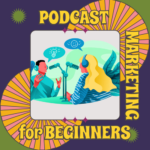 Today we are going to be talking about podcast marketing for beginners.
Sounds pretty rudimentary but frankly if you're a new podcaster, you may not even realize that there's much more to a podcast than just slapping some audio onto iTunes and expecting to see lots and lots of listeners.  That's why we decided to focus on podcast marketing for beginners in the latest episode.
[LISTEN: How Much Does It Cost To Market Your Podcast? – PODCAST EPISODE]
The reality of creating and maintaining a podcast is not all glamour and glitz and the vast majority of podcasts are abandoned relatively early on, unfortunately. This happens for a couple of reasons, so we're going to talk about that first and then we'll move into the basics of getting your podcast in front of your audience and how you can improve your odds of gaining listeners, subscribers and increasing your downloads.
We're not going to touch on the mechanics of creating a podcast – there are a million sites and guides and such that will tell you what equipment to use, how to edit, suggested lengths and where to host your podcast, we are going to assume you have that part covered and you're just looking to increase your audience.
First we want to look at why you've created a podcast, before we can even look at the marketing.
There are a few different reasons and these will lead you down different paths as far as the marketing is going to go.  First – are you creating an entertainment type of podcast? something that could be ad-revenue based? Or are you just making a podcast for your own personal enjoyment and you're not worried at all about monetizing? Is the podcast designed, like this one, to be a tool that helps you advertise, market or support, a product or service that you offer?  Podcast marketing for beginners is not a one size fits all job.
Anyone can start a podcast, it's just that not everyone can keep one going for long, and get listeners. Heck, we still have days where I look at the stats and think to myself, WTH, that was a GREAT episode, I wonder why more people aren't checking it out.
So grab your earbuds, kick back, and see what nuggets you can glean from the latest podcast episode – we're talking podcast marketing for beginners this time!