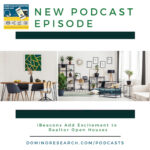 Realtor open houses are normally about as exciting as watching paint dry.
That's right!  We're back with a new episode of the podcast and today we're talking realtor open houses and what can possibly be done to liven those suckers up for the agents, brokers and prospective buyers!  We are going to focus specifically on using iBeacons to make things more interesting, as well as to increase the odds of getting at least one offer from an open house (making the realtor and the seller much happier indeed).
[LISTEN: Do broker open houses work or is it just a party? – PODCAST EPISODE]
So if you are a broker, a realtor, a real estate agent, or a for sale by owner type, you should realize that there are plenty of things you can do to actively increase participation, interest and engagement with prospective buyers when you are holding your realtor open houses.
Diving right in –  iBeacons, what can they do for realtor open houses?
iBeacon technology or proximity marketing offers location and context options for triggering attention to smartphones when they're most effective and resonates with clients. It can be trigger based on time or location making it essential for any business to engage with mobile. They are short range transmitters you can hold in your hand that are placed inside any physical location, where you want to attract customer attention.
Open houses are a huge expense and takes a lot of time to have one. Its the best time to get solid leads or prospects. Even those lookie-lous today may be tomorrows client. Or As a home builder when showcasing the newest shiniest house in the new neighborhood, its easy mobile tech that helps the prospects through the journey of house buying using simple notifications to indicate the upgrades in the home.
How does the setup for iBeacons for work?
Its not difficult to organize the passes to generate a successful campaign. Realtors that are listening – this tool assists all your prospects taking them through the buying journey with phone in hand during an Open House – if you are not around to answer some of their questions they may have. It makes any realtor feel more confident that they are adding a tool that fits in with today's way prospects buy houses, using mobile.
Grab your headphones and a refreshing beverage and catch the latest podcast episode!