Mobile Wallet Marketing Made Easy Podcast
All episodes are now available online, free of charge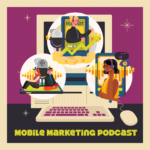 Show Notes | Episode 41 | Why Use Mobile Advertising? 5 Biggest Reasons | Episode Link URL – https://dominoresearch.com/podcast/why-use-mobile-advertising | It's hard to run a business when you can't figure out where your customers are.
Yes, that's a very strange statement to make at the beginning of a podcast about mobile marketing, but it's a great segue into this weeks topic – 5 Whys of Mobile Marketing.
So many business owners want to do mobile correctly, but so many of you struggle with how, when, where and what – all without realizing that until you answer the WHY part of the equation, you won't be able to fill in the blanks in those other columns.