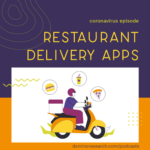 Let's face it, there are a lot of restaurant delivery apps.
Whether you live in the US or Canada, there are a ton of restaurant delivery apps out there – whether it's Grubhub, Doordash, Skip the Dishes, or any of the other multitude of third party aggregator apps, it's highly likely that you've ordered using one of these services recently.  Unless you happen to be Kim, who is completely immune to the darn things and believes in old fashioned takeaway and pickup.
[LISTEN: 3 Reasons why mobile works for #DistanceMarketing – PODCAST EPISODE]
But are these the best alternatives for restaurant owners?  Many of the managers and owners that we spoke to about the topic are not really enamored of restaurant delivery apps.  Some of them don't like the high commissions and fees that both the establishment and the consumer are charged; others are unhappy with the service on a more fundamental level.
But in a time when we are faced with many challenges in life (the least of which as a consumer is likely what restaurant delivery app we might decide to use tonight to get our dinner), we wanted to take a closer look at how the apps are set up to work, what the incurred costs versus perceived value actually might be, and to talk a bit more about whether or not these are actually useful to humans at the current time.
We love restaurant owners, they are some of our favorite clients.
The fact is that our mobile platform, MobileWalletMarketer.com, does a lot of things, but scheduling restaurant pickup and delivery isn't one of them.  Yes, you can manage rewards, proximity notifications, time or location based notifications, and a slew of other commonly used marketing and advertising tasks with the platform.
But that's not really helping when a consumer wants to get an order from multiple locations for their household, and it's not always helping the restaurants to do business if that business is costing them more money than they are seeing in profits.  It seems like a crass moment to be talking about profits, but the bottom line is that no business can continue to operate in the red for long, and we are currently running the risk in the US of seeing roughly 110,000 restaurants close their doors permanently.  And that figure is at least a month old.
Why does it have to be this way?
That's a really good question and we're spending a considerable amount of time talking about it in this episode of the podcast.  It's tough for independent restaurants of any size or type to make enough money to keep the doors open and the lights on at this point in time, and it stands to reckon that the restaurant delivery apps would be looking for ways to help these operators stay in business.
Instead, we have apps with good reach refusing to work with restaurants by cutting commissions or providing other opportunities for the locations to increase their ticket size by upselling at the time of order.  We see companies like Uber Eats refusing to play nicely with the very businesses that they need to work with if they want to continue to have food to sell as part of their Eats app service.
Why can't restaurant delivery apps be owned by the food companies?
While that's an interesting idea, it's not really in the best interest of many of the restaurants we know to work that closely with their competition.  Yet.  And with reopening looming on the horizon in many states – keep in mind that we have zero idea how that's going to work, it's not really a priority for many owners to develop their own restaurant delivery apps, even if they could partner up with other establishments that might make for a good pairing and a long term strategy.  We talked about this in the retail sense, way back in a podcast episode a couple of years ago, how a group of New Jersey retailers got together to use our mobile wallet campaigns to cross sell to consumers who were in the shopping area, and how it increased their sales considerably.  You can find that episode at Why Mobile Advertising Works, if you want to listen to it.
So grab your cuppa and join us for an engaging talk about restaurant delivery apps and whether they are helping.  Or not.