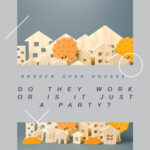 Broker open houses are a hot topic for debate among realtors, real estate agents, and brokers.
Woohoo!  We've got a hot real estate topic on the podcast episode this time – broker open houses!  Some brokers and agents absolutely SWEAR by broker caravans, while others claim they are a waste of time and a reason to party (ok, we know, it's real estate, there's not much reason needed to have a party lol…)
[LISTEN:  Favorite Real Estate Podcasts of Top Producing Agents –  PODCAST EPISODE]
We're breaking it down, the good, the bad, and the ugly, on this episode talking about broker open houses.  What to look for in a well run open house, what to expect as far as immediate feedback and long tail results, and when your broker open has turned into more of a traveling sideshow style house party.
Successful realtors, real estate agents and brokers all know how to network efficiently.
Hosting broker open houses is neither rocket science nor something to take on with no up front planning either.  The serious brokers who bring clients with them to these listings are going to expect the staging to be spot on, the printing to be proofread, and the place to be clean and ready to shine.  Mess up with top producers and they'll all take you off their caravan stops, not just the one you pissed off – as we all know, these guys mean business.
Forward thinking use of technology is also a great way to get ahead at brokers open houses…  (hint hint).  Being mobile ready, having mobile campaigns for the property already developed and shareable, these are little tiny things that can make the difference in top producers understanding that you are serious about your listings and that you're working diligently and smartly to move properties as fast as you can, for the best price.
Mobile makes it easy for other brokers and agents to share your listings with their buyers.
This might sound like a simple, simple, simple idea, but it's one that is quite often overlooked by everyone in the mix.  We're not saying that email is dead (yet), but if you're relying on email to direct time sensitive information to buyers, then you're probably going to miss more than a few sales this way.  Email is a nice followup but it should not be the primary means you use to get buyers' attention when they are close to a property that's listed for sale.
Mobile offers the option of proximity, location, or time based notifications – or any combination of these items.
That's right.  Prospective buyers are driving along, having a bike ride, out walking the dog with the kids, and WHAM! – you can put a listing right in front of them without them knowing it was for sale until they were close enough that it's a quick and easy detour to at least have a look at the front facade, and they can book a showing right then and there.
Yep, read it again.   And then grab your earbuds and listen up to the latest podcast episode about broker open houses.