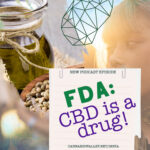 CBD is officially a drug now, according to the FDA.
And since CBD is now officially a drug, the FDA will wear the one ring to rule them all.  For all the activism, struggling, voter initiatives and farm bills that are successful, it still takes just one little warning letter from the FDA to a company like Curaleaf to kill their business overnight.
We recorded this podcast episode on July 22, 2019, when we got into San Jose for the NCIA #CannabizSummit trade show.  The very next morning the FDA sent a warning letter to Curaleaf, the company that supplies CBD products to Walgreens and other heavy hitters in the retail pharmacy space.  The FDA letter stated that four of the CBD products were mislabeled and making claims as drugs without testing or approval.
The Curaleaf website has made some changes to it's verbiage in the past few days, it's as of yet impossible to know what turns the relationship may take with Walgreens, and what the FDA's next steps in the CBD marketplace may turn out to be.
When you think you want to sit at the grownups' table…
At the end of the day, THC producing companies should take notice of the situation, and should pay particularly close attention to the reason that the FDA has decided that they have jurisdiction over the CBD products – because of Epidiolex.  If you are not familiar with the product or the story, Google it.  It's somewhere between fascinating and paint drying, depending on how much information you are looking for and what you already understand about the reasoning that government agencies use when they determine jurisdiction and enforcement processes.
[LISTEN: 'Best of' Cannabis Industry Episodes – PODCAST EPISODE]
As the cannabis industry matures, we suspect that this situation will repeat itself more than once.  For many years, legal marijuana advocates have played the 'medical marijuana' card in order to open retail shops or run delivery services in the vast majority of states that have some form of legalization.  While this may have worked as a stopgap measure to keep the dispensaries open and the growers planting, if the FDA starts recognizing cannabis products – or hemp in this case – as actual drugs, then they will be able to require so many things that the industry absolutely is unable to provide, at least not in an amount of time that is possible while still running a business that isn't allowed to generate any income or sales.
Grab your earbuds and settle in to talk about the CBD industry, the FDA, and how this can affect the entire cannabis industry overall.