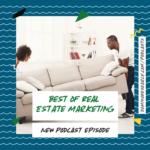 We're back with 'Best Of' – and today we are featuring real estate marketing episodes.
As we draw closer to the magic 100 episodes mark, we're revisiting some oldies but goodies, just like we did last summer.  Our 'best of' series today is highlighting real estate marketing episodes, and we certainly have plenty to choose from in the archives.  We've chosen three favorites –
Realtors Use Mobile Wallets to Generate Leads
Broker Open Houses – Worth It or Just Another House Party?
iBeacons & Open Houses – Set for Success
These three are among our most popular real estate marketing podcast episodes, and there are truly some little gems hiding in the audio files.  Whether you are looking at more ways to increase exposure via prospective buyers or other agents, or you are looking to up your listings game, you're definitely going to want to drop everything and hear us out.
[LISTEN: Favorite podcasts for real estate marketing professionals – PODCAST EPISODE]
First up, we're talking mobile wallets and how you can leverage the power of location and proximity marketing and advertising to up your real estate marketing game by a LOT.  This episode has consistently remained among the most popular, and we field a lot of questions from agents via the websites about the ways and methods that we detail.
Next we are moving on to the ubiquitous broker open house; many of our clients in the real estate industry absolutely love a good broker caravan (or at least they do when there's food and alcohol involved), while others cannot stand them and can't be bothered to attend no matter what's showing.
Last but not least, we are walking you back through the episode that details exactly how to set up and execute location and proximity elements for real estate marketing, and giving you tips and tricks to see increased reach and more engagement from your campaigns.
So kick back, headphones on, and take a quick summer break listening to the "Best of" – real estate marketing podcast edition!