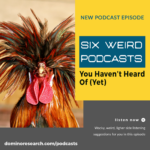 Strange podcasts aren't that hard to find.
On the other hand, GOOD strange podcasts are a little bit more elusive out in the wild.  We have, however, in the latest episode of our podcast, decided to research a few and put them forth for your listening, and possibly critiquing, pleasure.
[LISTEN: "Best of Marketing" podcasts, Part 1 – PODCAST EPISODE]
As a matter of fact there are so many podcasts, not all of which made it past the first couple of episodes, available at the moment that it is nearly impossible to find anything.  Big budget productions from NPR, TAL, Gimlet and so on are the standard bearers for the homogenization and commercialization of what was once very much a cottage industry.  Yeah, same thing with blogs, apps, social media and legal weed… we know.
If you're in the mood to listen to some strange podcasts, we're starting you off with an oddity, well, A Box of Oddities, to be precise.  Then we're segueing into The Orbiting Human Circus of the Air to really get things moving.  Both of these series are seriously offbeat yet fairly high on the thought provoking scale.  We like them.
Good strange podcasts, on the other hand, are a different story.
If that weren't enough, we're heading down the road with The Fruits of Madness, and following it up with the story of The White Whale.  No, really, this is how we're running the middle of this episode about strange podcasts.  In case you're wondering, there's no Ahab in the Whale but there are musical bits and interviews and an overall strange vibe to it, so it was right up Hazel's alley.
We're closing out with reviews of My Favorite Murders and The Weird History Podcast – both of these shows are intriguing and nicely done from a production standpoint; it'q quite likely that you'll be interested in subscribing to one or both of them after you hear our reviews.
So grab your earphones, your belly laughs, and your suspension of belief so you can settle in and listen to the latest podcast episode!