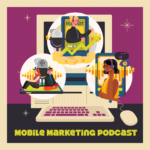 Show Notes | Episode 54 | Advocacy Marketing | Episode Link URL – https://dominoresearch.com/podcast/advocacy-marketing |
Advocacy marketing can be a tricky subject to master.
What are the best ways to empower advocates to engage with your target market?  Advocacy marketing deals with the methods that a company can use to enable current customers, celebrities or other spokespeople and potential new customers to spread the word about a product or brand.