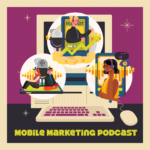 Show Notes | Episode 50 | A Museum Using iBeacons & Happy 50th Episode to Us | Episode Link URL – https://dominoresearch.com/podcast/museum-using-ibeacons-50th-podcast-episode |
Today we're talking about a museum using iBeacons to enhance visitor experience.
Yep, that's right, we've made it to another milestone. Honestly, we don't normally pay much attention to the episode count, but today it is our 50th episode and that's something to celebrate.  And to celebrate, we're talking about museums using iBeacons.