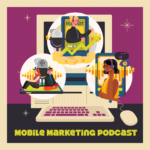 Check in with some of the best marketing podcast episodes we've produced.
Over the past few years, we've produced a lot of marketing podcast episodes and this week we've chosen some of the best episodes to pull together into a compilation for you.
This offers our listeners the opportunity to check out bits of different episodes, get a feel for what's applicable to your business, and then hopefully go back into the archives and listen to the full episodes.
[LISTEN: How To: Integrate CTAs for Better Mobile Engagement – PODCAST EPISODE]
Our platform – MobileWalletMarketer.com – enables small to midsize business owners across a variety of industries the opportunity to use mobile to enhance sales, marketing, and customer service via a unique mobile interface that works with nearly every smartphone on the planet.
Starting with why mobile works and how it's so effective –
Our first clip in this best of series marketing podcast episodes comes from Episode #34 – Why Mobile Works, The Proof is in the Pudding. This is part 1 of a 2 part show, and it first aired in February of 2017.  Many people were starting to ask us about how to use mobile to get the jump on their competitors and we were happy to give them an episode with all the details.
We talk about the basics of mobile marketing – what it does, why it works, what the most effective methods of delivery and engagement might be in the genre.
Find out who our five favorite business blogs are right now –
Our second clip from this best of marketing podcast episodes is Episode #37 – The Five Best Business Blogs You're Not Reading. Originally airing in March 2017, this episode was about giving back to our listeners without promoting ourselves at all.
We combed through some of the blogs that we look at on a regular basis and chose the five that we think are most effective at helping small business owners to increase sales and profit margins, leading to better run businesses overall.
So grab your earbuds and settle in for a quick rundown of the best of our marketing podcast episodes this week!