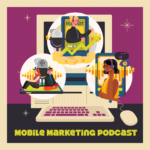 Show Notes – Episode 27 – https://dominoresearch.com/podcast/cost-successfully-market-your-podcast-ep-27/
Creating a successful podcast doesn't happen overnight (unless you've got deep pockets, lots of online connections or a huge fan base all ready to help out), and it can become costly to market, advertise and promote your podcast if you haven't strategized and planned properly.
Starting with a grass roots campaign and growing organically from there might take a little longer, but it's also a viable option – especially if you're launching your first podcast and aren't entirely sure how manage the rest of the enterprise.
Hazel and Kim talk in detail this week about the in's and out's of spending money to market, how to make the most of your investment, ways to get a better ROI for the same money, and what your next steps should be.