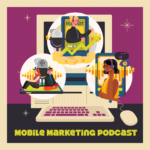 Do you own a tourism, travel or seasonal business?  If so, are you booked to capacity?
If not, grab your earbuds and a quick cup of coffee and hit the play button on this episode of Mobile Wallet Marketing Made Easy! Hazel & Kim are back with another episode of the popular podcast that gives you a step by step roadmap to increasing bookings, generating interest in the off season and leveraging your good customers for easy referrals that will help you fill your reservations bookings with minimal investment and maximum impact –
Tourism, travel and seasonal businesses continue to struggle with filling unused bookings nearly everywhere, and filling those slots before the season starts is a great way to increase revenue and accurately plan for staff and other resources.
Using a digital business card — mobile wallet marketing pass – as a direct link to customers and prospects enables you to communicate directly, sending updates and notices directly to the lock screen on their mobile phones. If you're running a tourism, travel or seasonal business that relies on word of mouth, referrals, or advertising that is seasonally dependent, you're going to want to take a look at the digital business card.  It's a GREAT way to put your business in front of potential customers and referrals all year long – not just when they see your ad in a hotel magazine or stumble across a review on Yelp.
Travel, tourism and other seasonally based businesses face fierce competition – not only from large corporations but also from other well connected local businesses who understand the power that mobile and online marketing can offer. Facebook and Google are expensive ways to advertise; we're not saying you should chuck your campaigns into the round bin, but we are saying that you should add a long tail component to all of your advertising, no matter what medium you are using.
Listen to this episode for easy action items, step by step instructions and some extra tips on how to fill your bookings well in advance of the start of the season.