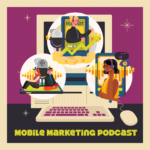 Time for a new podcast episode and we are talking real estate marketing podcasts this week!
If you are not *yet* a top producing real estate agent, realtor or broker, you're going to want to listen up and find out the lowdown on which real estate marketing podcasts are the best ones to listen to in order to get more listings, find more qualified buyers and close more deals on both sides.
[LISTEN: Realtors use mobile campaigns for lead generation – PODCAST EPISODE]
It's pretty clear that top producing brokers and realtors have some common habits, and one of those habits is listening to the same real estate marketing podcasts – we've taken the guess work out of deciding which ones are good and which ones are full of it, and this week the latest episode of the podcast is all about dishing the dirt on the best real estate marketing podcasts.
These are not your typical "how to flip a house" type real estate marketing podcasts.
These shows are created and produced by real agents, real brokers, people who have learned how to make the top seller and top lister spots in the rankings, month in and month out.  The stories are personal, relatable, and you'll often find yourself laughing at the sheer audacity of some of the hosts.  You'll also learn a lot from these real estate marketing podcasts – lessons you can apply to your own real estate business and become a more successful agent or broker because of it.
We've selected our five favorite real estate marketing podcasts to feature on this episode, and we are giving you the lowdown on the show type, host personality, average run time of episodes, and a bit about the focus of the podcast host and the show itself.
So grab your earbuds, get a fresh cup of joe, and settle in for the latest episode where we're talking all about real estate marketing podcasts!