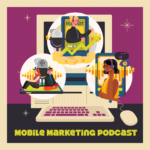 Hey there everyone!!!  It's Episode 3 of our new podcast series in the hopper and I could not be more delighted!!!
Real Estate Agent Marketing Tools
REALTORS®, brokers and agents are PERFECT CANDIDATES for mobile wallet marketing, it's like a match made in heaven — here are my favorite reasons why:
Location based notifications – there is NOTHING ELSE that offers a realtor the chance to message a prospect when they are standing in a specific location like this does – we have geofencing for larger scale, macro location; iBeacons jump into play for indoor and micro location awareness messaging
Push notifications – once a property listing is dropped into a smartphone, approximately 95% of the STAY THERE.  Yes, read that again, I said 95%…  the opportunities to convert those listings to comparable properties, realtor business cards or agency information passes is TREMENDOUS.
Drop in from any current advertising.  Google Adwords?  Check.  Social media posts?  Check.  QR codes in newspaper/flyer/print ads?  Check.
And my #1 reason that anyone should be able to understand VERY CLEARLY AND EASILY — 
Customer referrals become viral — IT IS A 2 CLICK PROCESS NOW — honestly, for current and former clients who are going to refer an agent to a friend, co-worker or neighbor, this is now 2 clicks.  2.  Yep, that's right.  2 clicks.  And the prospect that gets a referral from your customer?  Well, it's 2 clicks for them to put it in their phone (where 95% of them stay, don't forget) as well.
There is no easier way for customers to refer their REALTOR, agent or broker to their friends, neighbors and co-workers. 
Episode 3 is all about how to get the job done more quickly, more easily and more cost effectively for real estate agents and brokers.  We break it down into simple steps that make it easy to understand and give direct instructions on how to set it up in less than 5 minutes per listing.
Cheers!
Kim