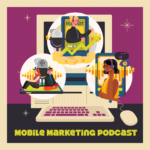 Online marketing strategies on mobile wallet marketing.  
You're probably reading that sentence, shaking your head, thinking that there's something missing.  And you would almost be right.  Except…
We are talking about online marketing strategies and how they can be enhanced and impacted by adding a mobile wallet marketing component.
If you're not familiar with mobile wallet marketing and how you can integrate it into common online marketing strategies then this is the podcast episode you'll want to hear today.
Mobile wallet marketing via Apple Passbook includes instant access to Apple Watch, and is compatible with geofencing and iBeacons.  Google Wallet is another way to distribute passes to smartphones, but frankly, Google is still a bit behind the times – focused on Wallet as a payment method instead of looking at the advertising potential.  Strange for the Big G, I know, but that's where it is currently. 
Right now, the average Apple Passbook pass remains in the iPhone (and, by extension, the Apple Watch) in 90% of the installed cases.  While this is an unrealistic number over the long term, it offers a tremendous greenfield opportunity for smart marketers to made ongoing connections with customers and prospective customers that extends well beyond the reach of any email campaign, programmatic ad buy or social marketing platform.  
The ability of installed passes to leverage updatable live links includes:
Offer updates or changes in real time

Drive traffic to alternate campaigns via live links

Swap offers for more relevant or profitable campaigns

Target for inbound call center marketing options
Consider the mobile wallet marketing segment of a well thought out online marketing strategy as a sort of hybrid campaign option.  If you're a marketer with a payday loan opportunity, segmenting your passes by original campaign means that you'll have the ability to go back to that demographic via their smartphone and re-market them for additional offers, or perhaps cross marketed offers, such as credit score monitoring and so on.
If you're marketing a health and beauty product, chances are you'll be marketing additional products in a relatively short period of time.  How convenient is it to be able to update the back of the pass with new campaign information to existing customers who have installed passes and then use push notifications to target these customers, driving traffic to mobile landing pages from within the existing installed pass?
There are almost unlimited possibilities when you really start to think about the structure of the pass itself and the method of engagement.
---