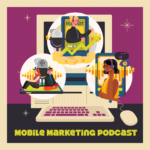 Sometimes podcasting trends aren't very exciting.
So, here we are, right around the midway point in the year, and it's been somewhat exciting for podcast hosts, although as usual, it's very much up and down.  We're going to recap some podcasting trends and talk about what's next.
It's hard to say what's really exciting in podcasting trends, after all we are talking basic blocking and tackling for the most part, unless we're discussing the crazy stats for S-Town – 40 million downloads in the first month alone.
Quick marketing plug that's not about podcasting trends –
We also want to remind you that one of our older episodes – 10 – is our original "Marketing Podcasts with Mobile Wallets" episode, and it's got a wealth of ideas and great stuff in there that you can use to determine how, when, where and why to set up mobile campaigns to help grow your listener base.
[LISTEN: Marketing Podcasts with Mobile Wallets – Episode 10]
If you're trying to grow your user base, this is a great episode to check out.  If you rely on ad dollars to pay your bills, you're probably less concerned with podcasting trends than you are with revenue and getting more advertisers on board with your show.
iTunes.  Always a quandary, never a solution.
Upwards of 85% of most podcast listens are on iTunes – anyone not using iTunes as an option is probably kidding themselves -or maybe they're using a deceptive system to bump up numbers and gain more advertisers, you know, the old bots thing that is so prevalent, especially when sponsors and advertisers have even less idea about the ROI and effectiveness of their spends.
There's a new company that claims to be able to accurately measure iTunes listening… Australian cloud-based audio management company Omny Studio have spent months developing a way to monitor the iTunes Podcast app, and they've just released an upgrade for their enterprise customers which, for the first time, lifts the curtain on these statistics.
And something for the wee ones too…
Moving on to some new 'trends' in podcasting, kids are all the rage.  NPR and WNYC Studios are both cooking up kid friendly shows, and have high hopes that they can garner the tween and young adult market by providing suitable content that kids will want to listen to.
Get your earphones, grab a drink, and find out what everyone is talking about in our podcasting trends episode of Mobile Wallet Marketing Made Easy!