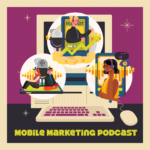 How often do your vacation rental properties sit empty for a week or two without a booking?
If you don't have renters in your properties, that's a direct hit to your bottom line.  Wouldn't it be GREAT if you could leverage previous renters – using them to get referrals for friends, co-workers, neighbors and family?  This week we have 4 simple tips that will get you started.
What if you could also send out updates with special offers or limited time deals for certain weeks or months of the year – and when you sent the updates, people noticed them right away?  And build a following for your properties at the same time?
Do you have a good mobile marketing strategy to help you profit through the leaner times?
Hazel & Kim are back with a new episode of Mobile Wallet Marketing Made Easy, and this time they have 4 simple tips that you can use a good mobile strategy to help increase your vacation rental property bookings, get more referrals from previous renters, and to help you keep your properties filled to capacity year round.
[RELATED: Podcast #19 – Tourism & Travel Businesses Use Mobile Marketing]
Whether you've got a string of beach villas or a single Alpine chateau on the slopes, learning how to use mobile marketing to increase your revenue, make it easier to keep your properties rented and get more referrals is particularly important over the long run.
"We keep our guest list updated via mobile when we plan to have discounts or when we know we'll book up in a hurry – they appreciate the courtesy of a heads up, and we feel like it helps build a relationship with them; we are saving a TON of money on international SMS costs by using mobile updates as well!" —  Jenny L, Lake Nicaragua
This episode quickly covers deciding what to put in your mobile marketing, how to get your guests to give you permission to update them, and offers creative ways to think outside the box to increase participation among your current and former renters –
So grab a cup of coffee and your earbuds, and spend the next 20 minutes learning these 4 easy ways to make more money from your vacation rental properties.