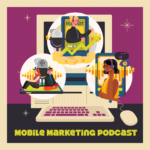 We're back with another round of mobile apps vs mobile wallet applications!
Way back when (ok, just a few  months ago, since it was Episode 9, the link is below), we produced an episode called "Mobile Wallet Marketing vs Mobile Apps", all about mobile wallet applications and mobile apps in general, and it got a tremendous response – not just in number of listens, downloads, and shares (which are great and still climbing), but in the amount of feedback that we have gotten from listeners about the episode.
[LISTEN: Mobile Wallet Marketing vs Mobile Apps, Part 1 – PODCAST Episode 9]
The most popular request that we've been receiving is one for more information; more detailed information that goes beyond the scope of the original show.  So here we are, we've added a second episode, a Part 2, if you will, and we dive more deeply into the various reasons to consider a mobile wallet application instead of deciding to build and support a mobile app.
Has anything really changed in the app vs. mobile wallet applications war?
Bottom line is still the same – if you don't already have a very large user base, going the mobile app route is likely to leave you disappointed and out of pocket for a lot of expenses you're never going to recoup.  Aside from the vanity aspect of having an app for your business, there are very few use cases where doing it alone with a mobile app is going to pay for the app cost, or bring you users that turn into revenue.
If you're still working out your mobile marketing and mobile advertising strategy, start by listening to this podcast episode; it will help you to make the final call on whether you should build and support a mobile app or if you can cost effectively use a mobile wallet application to do the same job for a lot less time and money invested.
Grab your cup and earbuds, and catch Hazel & Kim telling it like it is!