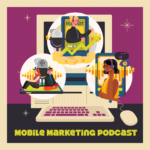 Live stream marketing can be paired with mobile updates to supercharge your communications!
Whats the best to be seen using social media for online coaches and influencers? How do you gain more of a following and increase revenue? is being sponsored on a newsfeed a profitable path?
Being in the news feed is effective but its losing its charm as an influx of business coaches are using paid ads to saturate the marketplace.
Facebook, Hangouts and Periscope notifications are a way of informing your audience of when your live – without warning. But like other online tools, you'll need traffic to go big and FB notifications may not be enough to reach your target audience.
Thinking of branching out and using multiple services to broadcast?
It can be difficult to meet your ROI goals by just sticking one social media platform but using all social media to inform…mobile updates make it easy for online coaches to inform on the one platform that counts – mobile.
Engaging using live stream strategies, as its catching on like wildfire and still a new tool – streaming socially is easy but what is the ROI- if no one knows your there- if they just so happen to see you while scrolling through a newsfeed.
Your mobile wallet pass can send those notifications that Facebook, Hangouts, Periscope, etc may not be able to reach. These mobile updates are seen right on the lock screen and carry great weight with them, generally leading to maximized results that wouldn't be possible just using live streaming broadcasts.
Grab your coffee cup and your earbuds, and get ready to learn how to make the most of your live streaming events by pairing them with mobile notifications to bump up your audience and get more viewers each time you broadcast!
Happy streaming 🙂