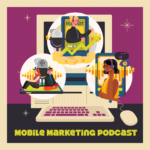 Does your legal cannabiz have a mobile marketing strategy yet?
A well thought out mobile marketing strategy is something that every legal cannabiz needs to implement – and fast!
Mobile is a critical tool in making any business successful in today's marketplace; those who embrace and master the medium early will see HUGE benefits including an increased customer base and higher per ticket purchases.
Why do you need a mobile strategy for your legal cannabiz?  That's a fairly straightforward question with a very simple answer.
As the competition heats up (here in Phoenix alone there were 31 new licensees in the October lottery), and more legal cannabiz companies begin marketing to consumers, getting onboard with mobile advertising and marketing is the best way to reach out to clients and patients when they are ready to purchase.
The benefits that a well developed mobile advertising strategy bring to your business include:
Connect with patients and clients when they are nearby your location (in states where outside the dispensary ads are allowed, sorry Washington).
Help direct shoppers inside the dispensary to products and items that suit their needs.
Inform and educate patients and clients about new strains, new products and new information that is pertinent to their medical conditions or recreational needs (hello Oregon!).
Provide additional educational materials, calls for advocacy, and more directly to the smartphone lock screen in a timely manner.
Work on co-op marketing with specific brands and producers for your client base.
It's that time again – grab a cup of whatever you're drinking and put on your earbuds – Hazel & Kim detail the best ways to grow your legal cannabiz using mobile advertising to inform, educate and prompt patients and clients to purchase from your dispensary or delivery service.
Listen to the latest episode and find out the top 3 reasons to add mobile ads to your cannabis marketing campaigns.