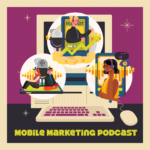 iBeacons + events are like a match made in heaven.
Right, yes, we say that about everything that pairs well with them.  But iBeacons + events are right up at the top of the list.  It's the simple, easy way to help direct traffic, control attendee flow patterns, and keep everyone moving in the direction that you want them to go.
This year we've been traveling around to events and trade shows demonstrating ways to use mobile wallet marketing. The big draw with MWM is using iBeacons for both speakers and exhibitors at trade shows.  So we've seen what works and what doesn't when it comes to getting the most from the money you spend to provide a good experience for your attendees, vendors, sponsors and speakers.
What makes iBeacons pair so well with events management?
As you probably already know, when you've got multiple tracks, or a large number of attendees, vendors, speakers and sponsors, keeping everyone on the same page is often difficult.  But it doesn't have to be.
Selectively using beacons and geo-fencing to keep everyone apprised of schedule changes, updates, and simply where they need to go next makes short work of an otherwise time consuming situation.
Hazel and Kim are walking you through the process of deciding what, where, how and when to deploy the iBeacons to help you manage your various groups that are attending your event, and giving you tips on strategy for creating your deployment diagrams.
iBeacons make it possible for you to push any information you need to at your event.
Whether you need to update attendees on a change in speaker schedule, or you want to give a shout out to a special sponsor at a certain time on a certain day, it's super easy to manage your notifications with a location and contextual relevance.
Find out how to work with iBeacons to make your next event a smashing success!  Grab your morning coffee and have a listen to the latest episode of Mobile Wallet Marketing Made Easy.