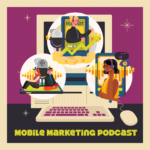 We're taking a look at the Google Podcasts App on the latest podcast episode –
In case you've been living under a rock for the past few weeks, Google has debuted a new app – Google Podcasts App – and it's more of a native podcast player than a stand alone app in the Android ecosystem.
We're going to break down the pros and cons of the new Google Podcasts App in this episode, and we'll finish by talking about the Washington Post (aka Amazon) going into testing with a new podcast ad insertion tool they are calling Rhapsocord.  It's got some definite possibilities as well as some interesting limitations, and we will walk through the platform and the premise for you.
[LISTEN: The Changing Podcast Landscape – PODCAST EPISODE]
So, the Google Podcasts App – will this become a new "thing" or just another side project that didn't really turn out to be a long term plan for Google/Alphabet – that's what we're working through on the episode.  If you have an Android phone, grab it and bring up the Google Podcasts App, so you can check it out along with us on the show.
It's a 2-fer?
One of the more intriguing ideas that comes from the Google Podcasts App is why they haven't removed the podcasts library from the Google Play Music app – right now both of these apps are carrying the same content.  But the Google Play Music app is a standalone app, you have to go to the Google Play store and download it.  The other is a much more "native-like" app that doesn't require you do anything in order to get it and use it on your Android phone.
The whole thing launched very quietly some months back – literally no fanfare, no big announcements, no serious promotions from Google, Google Play, Alphabet or Android.  One day there it was in the Android – Google Podcasts App.  Very much on the down low.
In light of the fact that it was a super quiet launch that didn't really make any noise, it's apparently that Alphabet/Google have very high hopes for the platform and its' adoption by Android users over the immediate and longer term future.
Say WHAT?
"the company expects Podcasts to bring the form to hundreds of millions of new listeners around the world."
Yep, that's the Google take on the situation.  That's a rather lofty goal for a company that doesn't have much going on in the way of podcasts at the moment.  I guess we'll wait with baited breath and anticipation to see how this one is going to go forward and what the actual results are before passing judgement in either direction.
Rapture?  Rasputin?  Rhapsocord?
That's right, Rhapsocord.  Not willing to be outdone and overshadowed by Google, the folks from the Washington Post – who cash checks from the same bank as Amazon – have launched a new product in the podcasting space, and it's called Rhapsocord.
It uses artificial intelligence to determine where and what kind of ads to insert, and then it updates those insertions dynamically – something BIG in podcast land, where most of the ads are pretty much permanently inserted when they are dubbed into the final edit of an episode.
This could be really big news, but at the moment there are plenty of questions regarding how, who, when and for what cost the tool could become a mainstream podcasting product; it could also entail hosting podcasts exclusively with AWS or some other Amazon owned component to be workable, but we really can't say for now.
Check out the show, it's got more answers and less questions on these two HUGE topics in podcast land right now!!!