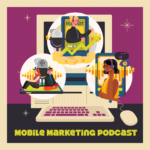 Increased lock screen notification response rates equals more money in your pocket.
It's no secret that lock screen notifications already provide the best customer and prospect responses in the marketing world.  However, it is still possible to see better conversions from your lock screen notification response rates.  There are several simple tricks that you can employ to bump your conversion rates to an even better percentage.
🏆⌚️📐 – The Emoji Factor – 🏆⌚️📐
One of the most simple and easy ways to increase lock screen notification response rates is to employ emojis.  That's right – adding an emoji, or even two, will trigger a more favorable response from your customers and prospects when they see your notifications on their mobile device screens.
[LISTEN: A Museum Uses iBeacons to Increase Activity and Engagement – PODCAST EPISODE]
The same is true in email response rates, by the way – adding emojis to your subject line will also increase your open rate on your email marketing blasts.  Don't get carried away though, the law of diminishing returns still applies to the idea.
📍🔍📱Geo-location and proximity still critical 📍🔍📱
We can't overstate (and we spend a lot of time talking about it in this episode) the importance of using geo-fencing and proximity alerts for mobile marketing and mobile ad campaigns.  By adding a location or proximity element, your lock screen notification response rates will increase, simply because you are providing a prospect or customer with a very specific reason to do something based on where they are when they receive the notification on their mobile device.
Time sensitivity is also a big reason for prospects and customers to react positively to your lock screen notifications, and if you are smart about how and when you employ time based notifications, you will also see your lock screen notification response rates climb significantly.  For instance, a restaurant would want to send out the daily specials update early in the day, especially if there's something for lunch or happy hour included in the message.
🛑 If you don't message, you won't see activity.  🛑
This should seem simple, but we are often surprised by how many businesses don't include messaging as part of their overall marketing or advertising plan when it comes to mobile.  Sending out an email blast is nice, and perhaps offering Groupon or other discounts is good, and of course you can't overlook social media entirely (even if it's much harder to work with these days), but nothing has the lock screen notification response rates that a well timed and helpful message sent directly to mobile does.
Join us on this weeks podcast episode, and find out just what kind of a difference you can make in your lock screen notification response rates, just by employing a few simple ideas!