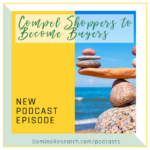 Compel shoppers to become buyers… if it were only that simple.
If you're in the business of selling things – whether it's a product or a service, you've probably already heard – a million times at least – that having a good story is what makes the difference in whether or not people will actually buy what you are trying to sell them.  You must compel shoppers in order for them to become buyers.
[LISTEN: Integrate CTAs for compelling mobile engagement – PODCAST EPISODE] 
We are taking a closer look at what makes a good story, an honest story – one that rings true with prospects and is true to your business philosophy and mission statement.  But how do you determine what makes a good story?  One that will compel shoppers to become your buyers, and keep them coming back to do business with you again and again?
On this episode of the podcast, we're going to talk about how to craft a story that will help you engage with prospects, customers and referrals, and how you can employ that story to generate more sales and better conversions.
Changing hearts and changing minds
Everyone from Google to AdAge to Forbes spends a lot of time talking about telling stories. So it's kind of a nebulous concept, which can become a bit of a daunting task for people who haven't done story based marketing in the past and might not know where to start or how to create a story that actually helps to convince people to take the next step, which is making that purchase.
It's impossible to run a successful business if no one is buying what you are selling, and for most businesses, there is a finite number of people who are in their target demographic.
In order to compel shoppers to become buyers, take a few minutes to listen and learn what you can do to prepare your story and your business to become part of the conversation and not just a lot of noise.
So grab your earbuds and settle in for this weeks new episode!