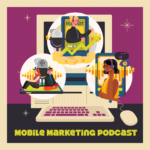 As we roll into the first quarter of the new year, we wanted to take a look at the podcast landscape.
If you already have a podcast, or produce podcasts for other people or companies, then you know that the more things change, the more they seem to stay the same in the podcast landscape.
We are promised all kinds of goodies from all kinds of vendors, and then the end result is a bit on the shaky side in most, if not all, cases.
podcasts, or what I fondly refer to as the "unquantifiable playbacks of lovingly recorded content"… if you're wondering why I call it that, it's because getting accurate stats on podcast series is like pulling teeth, and I am pretty close to believing that all these promises from people like Apple, Castos, and everyone else involved in distributing podcasts for the people who make the darn things.
Whether you read the HotPod.com newsletter (you should!) or if you depend on us to get you most of your news from the podcast landscape (you can do both!), the big news this year (again) is stats, lack of stats, the promise of stats, and what having actual stats would mean to a large portion of the ad supported branch of the podcasting sphere.
Are you thinking about creating a new podcast?
We would certainly never admit to anyone that we might have a little bit of a Pinterest addiction, but if we did, it would also be strange how many pins and boards we've seen recently that are focused on building podcasts.
Back to the topic at hand – the latest episode of the podcast and what's in it for you – we've got plenty of news and updates about what's happening and what's not really making headway across the podcast landscape.
So grab your earbuds, crank up the volume and jump in to the latest episode of Mobile Wallet Marketing Made Easy –