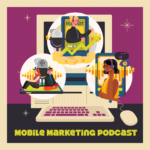 Cannabis marketing laws can vary wildly by US state.
Today we're taking a comprehensive look at cannabis marketing laws, on a state by state basis for US cannabis producers, dispensary owners, delivery services and auxiliary businesses.
If you're in the cannabis industry already, you know about the overwhelming amount of regulation – often contradictory – that pertains to nearly every part of the business of cannabis.
[LISTEN: Mobile Marketing for Your State Legal Cannabis Dispensary – PODCAST EPISODE]
Given the marijuana is still considered by the DEA and the US government to be illegal no matter what states construct as laws, it's always a touchy subject.
Americans support cannabis legalization for the most part.
We saw some recent poll results that claim that 60% of Americans think that marijuana should be legal in some form or other, and that only 15% of Americans think it should be illegal in all forms.
In this episode we're only going to talk about advertising regulations by state, but we do have another episode that's going to publish soon about the new CBD regulations that the DEA is attempting to impose on the industry, so look for that upcoming.
So do Canadians.  The entire country is aiming to be recreational use legal by summer of 2018.
Canada is another strange situation, since there are 38 legal producers of medical marijuana across the entire nation, but what seems to be more than 38 dispensaries operating in downtown Vancouver alone (this is not an official count, just an observation made by driving through dt Van); these storefronts are licensed and operate under the auspices of the cities where they are located, and Vancouver is not alone – Toronto and other Canadian cities also have store front dispensaries.
Get the scoop on cannabis marketing laws here.
Not sure what's legal or permissible, and to what extent where you live?  We've got you covered!  We're going state by state, line by line, and dissecting the laws.  We're not lawyers (although we do know a considerable number of cannabis industry attorneys), but most of these laws are written in plain English and make it easy enough to understand.
Grab your earbuds and your, um, coffee?  ;-}}}  And join us for the latest episode of Mobile Wallet Marketing Made Easy –