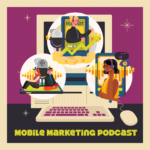 Bridging the strategy – execution gap is a critical piece of the marketing puzzle.
Bridging the gap between strategy and execution in mobile marketing is a critical step in making sure your campaigns are well designed and get the results you are looking for, without sacrificing quality for quantity.
is your mindset keeping your business from growing?
do you have a plan to grow your business to market to mobile?
do you keep putting the same work in and seeing the same or even, worse less results?
[LISTEN: Integrating mobile campaigns into your existing ad strategies – PODCAST]
Your competitors are already planning a mobile marketing strategy that delivers more cost effective and value driven campaigns.
Today on our podcast – we discuss 4 steps to take your strategy to execution and fill the gap in mobile marketing.
do you have a plan to grow your business to market to mobile?
In what ways to you rank and prioritize marketing projects, opportunities or BIG ideas in a way that makes the biggest impact for your business?
how are you prioritizing your marketing projects?
If you believe your business should be growing faster than it is, then you probably know that its not the lack of marketing efforts….its where you're putting your efforts – its the lack of a true plan to grow your business on mobile.
Bridging the strategy – execution gap is mission critical to getting more out of less effort and less expenditure; these are fundamental tenets for growing a solid business with excellent ROI and a favorable outlook for the future.
The good news is that we're about to tell you simple ways to plan and grow your business on mobile and bridge the strategy to execution gap in marketing.
So grab your coffee cup, get comfortable and listen up while we detail the three part plan that's going to jumpstart your mobile marketing campaigns!