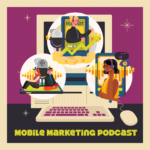 In the inaugural podcast of the new series, Mobile Wallet Marketing Made Easy, in the first episode, Hazel gives you the lowdown on exactly what mobile wallet marketing is, how it works, and how it came to be a THING.
Kim joins her to talk about who is using it *successfully*, and what they are doing in order to get those fantastic results.
We'll talk about Apple Passbook and Google Wallet (hint: BIG part of those *successful* results) and touch on iBeacons, geofencing and location based notifications.
Then Michael joins the broadcast, covering a range of simple tools and easy to use ways to create new campaigns and get them into distribution in less than 5 minutes (think NO CODING INVOLVED HERE FOLKS!) so you can start reaping the benefits of mobile wallet marketing as soon as you're ready to launch.
Last but not least there will be some Q&A (this podcast has been converted from webinar format, but we figured why not leave the good stuff in, since everyone has pretty much got the same questions about mobile wallets:
how you use them to market
whether you have to use them for payments
will customers use them
how much do they cost
how tech savvy do you need to be
Of course there are more, but if we put all the questions out here, then that kind of kills the reason for listening (except maybe you don't really KNOW ALL THE ANSWERS anyway) and we aren't trying to give out any spoilers…