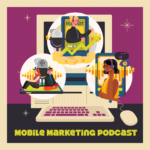 That's right.  Double your sales using mobile ads.
There.  We said it.  Just in time for the holiday rush, too.  Maybe you don't believe it, and no one is going to force you to believe us.  If you're already running a solid mobile campaign, then you're likely right, and we can't double your sales.
If you're not running a mobile campaign at all, then doubling your sales is the least we can do for you, if you listen and follow a few simple directions.
Mobile has already driven Black Friday sales to record highs, just last week –
According to data from Adobe, Black Friday e-commerce sales touched a record $3.3 billion this year, an increase of 21.6 percent from 2015 figures. Mobile commerce, which is poised to become bigger in the coming years, accounted for 36 percent or $1.2 billion of total sales. That figure is an increase of 33 percent from last year's figures.
Have you created and tested a mobile marketing and advertising strategy?
If not, what's holding you back?  The upside of mobile ads and marketing is tremendous, and the downside is that your competition will successfully get onboard before you do and that will make it even harder for you to recover those lost customers and prospects.
This week's episode gets down into the nitty gritty of running a mobile ad campaign – we talk about how to set it up, how to target and segment with almost no effort, what to look at when you're creating your link text and all of those itty bits that can make or break your campaign.
What are the main benefits you get from mobile?
First, you can reach people SO much faster and more effectively.   It's really quite simple with lock screen notifications.
We've seen some data lately that says that people want SMS notifications primarily, but the way those survey questions are set up (mind you the surveys are done by the SMS providers, so that makes the bias inherent from step one), it doesn't actually distinguish so much between a non-obtrusive lock screen notification, and a single text message notification.
How does this help you double your sales?
We'll give you a hint and then you will have to listen to the episode to find out all the details: location and proximity.
Using a combination of location based marketing and proximity marketing, you can literally double your sales overnight.  Get your existing customers to share your promos with their friends, family, co-workers and neighbors, and have them carry your marketing work load —
So grab that leftover turkey and some cranberry relish, make yourself a sandwich, and dive right into this weeks episode!
Happy holiday selling season!  May you double your sales this year!