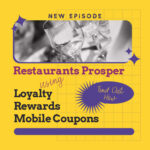 Mobile coupons, loyalty and rewards programs offer restaurants the chance to engage fully with clientele.
In this week's episode, we're talking restaurants, diners and drive-ins…  oh wait, sorry, that's another show.  We ARE, however, talking about how nearly any type of hospitality industry business can use mobile coupons, loyalty or rewards programs – or a combination of them all – to increase foot traffic, garner higher sales, raise the per ticket average of customer spending and generally make more money per customer overall.
[LISTEN: Loyalty program setup using mobile notifications – PODCAST EPISODE]
New restaurants are spending upwards of 30% of their entire budget on marketing and branding, and that's a huge spend as a part of the overall nut.  Even established restaurants are spending as much as 15% of their total budget on advertising and marketing, so anything that engages customers with a lower cost per engagement is always going to be a positive for the establishment.
Did you just say sizzle?
But just like in any other industry, right now the story is the sizzle and that's what is selling repeat customers and newcomers alike on where they're going to decide to dine out, take out, or shack up on the weekend.  Mobile coupons, loyalty and rewards programs, lock screen notifications, and a unified hub that brings together social media, online and offline promotions, reviews, menus, web pages and more are the key to a fully functioning omnichannel marketing campaign that resonates with customers.
In this episode, we are walking through a variety of options for using mobile coupons and programs to target and message the correct demographic; how to draw a response using effective calls-to-action, and what sort of ideas are working well to turn single visit clients into repeat, regular customers.
We are also putting together the reasons that a good story always helps your business, and teaching you how to use modern technology coupled with age old word of mouth to increase your foot traffic and first time customers while cementing your relationship with your regulars and making them feel more like family.
So if you're in the restaurant or hospitality industry, this episode is for you!  Grab your earbuds and learn what mobile coupons, loyalty and rewards programs have to offer your restaurant, diner, cafe, bar or lounge that will keep your customers happy and coming back more often than ever!